Technicate programs ideas into reality
Design, Develop and Maintain your project with Technicate
Technicate Solutions develops front-end and back-end applications using a solid core of technologies and people. These technologies include Java, HTML5, Android, NodeJS and many more. As computer engineers, we rely on a solid foundation to build choose technologies that meet the needs of our clients. We offer three different service products at each level of your product's life-cycle, if you are starting fresh, we recommend using all three.
Integrations
Solve the challenges of data retrieval by utilizing Technicate to connect all of your data into one source.
Business Intelligence
Our unique in-house team consists of business strategists, engineers and project managers give us the capacity to reach beyond the envelope in defining and developing your project.
Mobile Programming
Get your field employees off their expensive laptops and develop a mobile app that will streamline your processes,
Flexible Costing Model
Technicate estimates it's projects after the design phase, then creates pricing plans that are flexible over the course of development.
Why Choose Technicate for Programming
Technicate Solutions is an Agile based application development house.  We use industry standard methodologies for all of our client projects.  Our clients work directly with a project manager and have complete visibility in our programming efforts.
Our products, data centers and continued business relationships allow us to be selective in what we program.  We love working with problems where the solution isn't clear.  Furthermore, with people that are as dedicated to their challenge as we will be.  This selective mentality allows us to assign in-house team members that will focus directly on your project with minimal interruption.
Technicate has a nationwide cloud platform, data center and hardware capable of configuring enterprise platforms at low costs and in record time.  This means that our clients don't have to worry about the physical or virtual systems required to get their product off the ground.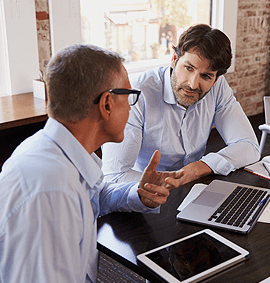 Key Benefits of Service
In-house development team
Agile based development practices
Flexible cost models
Removes all infrastructure headaches
Competent in web and mobile technologies
Uses industry standard practices
Works towards cost efficiency
Small workload means dedication to you
The Technicate dedication to your project starts immediately
The design phase is a key step to understanding defining whats required to get to finished product.  Without understanding what your minimum viable product is and what architecture will get you there, it is impossible to estimate the costs or level of effort.  Our lead engineers will work with you to define and plan your project to the point of "cost certainty".  After we are done, we will had you a project plan that you can work with.  Should you choose to develop that project with us, we will discount the cost of the design phase.  We are sure that your experience with our team will build the trust and certainty required to make your project succeed.