Let Technicate manage your IT infrastructure
Technicate Solutions' sole mission is providing custom applications and IT solutions that fit our client's specific needs. Whether you need on-site systems support, remote assistance, or a full hardware and software upgrade Technicate will deliver a complete, custom solutions for your IT support services needs. Our IT support services include:
Software set-up and update remotely or on-site
Onsite and hosted VoIP phone systems
Website construction and hosting
Custom Server and PC builds
On-site Networking set-up
Off-site backup solutions
Email Setup
If you're a company of 5 or 5,000, Technicate can accomplish your IT goals on time and on budget!
Integrations
Technicate solves the challenges of modern business by synthesizing solutions from the best of technologies and methods.
Business Intelligence
Our unique in-house team of business strategists, engineers and project managers give us the capacity to define, develop, deploy and maintain your project.
Mobile Workspace
Get your field employees off restrictive desktops and laptops by leveraging mobile applications that will streamline your processes.
Flexible Costing Model
Technicate creates project estimates after the design phase, then creates pricing plans that are flexible over the course of development.
Why Choose Technicate for IT Service & Support
Technicate Solutions performs applications development via the widely embraced Agile method.  We likewise use industry standard methodologies for all of our client projects.  Our clients work directly with a project manager and have complete visibility in our programming efforts.
Our products, data centers and continued business relationships allow us to be selective in what we program.  We love working with problems where the solution isn't clear.  Furthermore, with people that are as dedicated to their challenge as we will be.  This selective mentality allows us to assign in-house team members that will focus directly on your project with minimal interruption.
Technicate has a nationwide cloud platform, Tier III & IV data centers and resources for building enterprise platforms at low cost and in record time.  This means that our clients don't have to worry about the physical or virtual systems required to get their product off the ground.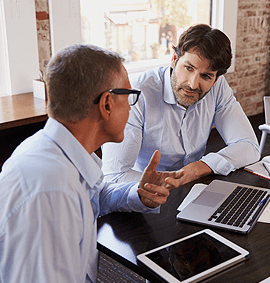 In-house development team
Agile based development practices
Flexible cost models
Removes all infrastructure headaches
Competent in web and mobile technologies
Uses industry standard practices
Works towards cost efficiency
Small workload means dedication to you
Service Level Agreements (SLAs) that Partner with you Immediately
Add Technicate to your staff through an SLA! It's like having your own internal IT department without the overhead or management. Contracts are paid monthly, and those lasting at least year earn you a 5% discount. We provide customized SLAs tailored to your businesses needs, so you pay for only what you need. We are a dedicated team of professionals offering broad IT support service solutions to companies across the state. Our IT support staff is dedicated to meeting your businesses needs and providing solutions that will help your business grow allowing you to focus on your business while we handle your IT infrastructure.